Iza Malczyk, 2007-02-26, comments: [0] leave your comment

Chain

I've managed to solder my first chain. Square wire I had no idea of incorporating into any of my pieces evolved into a bracelet today: rough, irregular, oxidised links and blood-red coral - the whole piece is very modern and... lightweight.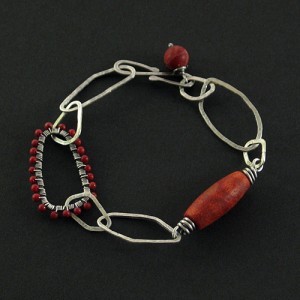 Iza Malczyk, 2007-02-09, comments: [0] leave your comment

Story.

I've managed to make another creation dream come true. After weeks of collecting materials and several days of work Ocean Tales necklace is finally ready.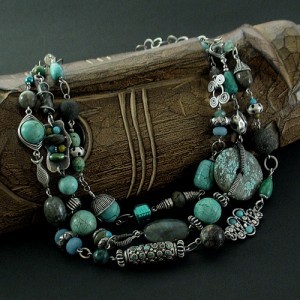 This piece shows the direction I'd like to follow in my jewellery making style.



Iza Malczyk, 2007-02-04, comments: [0] leave your comment

The torch.

I've managed to buy a torch at last - this new tool will have an undoubted influence on my style.

Today I'm pleased to show you the first piece partially created with beads made with the use of the torch - the ONE-OFF bangle. I've used beads made of art clay in it - it is a kind of clay that leaves 99,9% of pure silver after fireing.

ONE-OFF also contains a unique bead I made out of fine silver wire - it's a new technique created by Lynne Merchant. Her work is truly inspiring for further development of my wire-wrapping skills. You can see some of her works here: http://www.shepherdessbeads.com/?id=12



Iza Malczyk, 2007-01-11, comments: [0] leave your comment

Beginning

The beginning of this year wasn't kind to us - the three of us are sitting at home wrapped in blankets waiting for the flu to end. For me it is paradoxically a period of great creativity - I have to sketch all the ideas, there're too many for me to remember. I'm also trying to experiment with other techniques. Searching for the right place for me to feel really good.

There were two new, very diverse sets added to the gallery today - oriental IN THE EVENING and modern, austere HI-TECH.