Iza Malczyk, 2008-03-06, comments: [3] leave your comment

Cross - third tutorial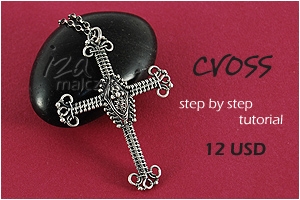 Cross is one of the strongest symbols in the whole history of mankind. It is not only the symbol of Christ and his sacrifice but also a well known sign present in many cultures. It is much older than Christianity and its meaning differs depending on the historical period or civilization it comes from.
I wanted to make a design which could be accomplished by all wire-workers, even those who are not able to solder. You don't need a torch to make this cross, although I've given some tips for those who have the soldering skills. This tutorial requires some basic wire-working skills, including the herringbone wrap, so it makes it an INTERMEDIATE LEVEL PROJECT. The process of making this cross is presented in 41 easy to follow steps and illustrated with 45 pictures.

List of materials and tools necessary to make a cross which measures 6cm by 4.5cm (2.4'' by1.8''):
•15cm (6'') of 1.0mm (18 gauge) hard sterling silver wire
•40cm (16'') of 1.0mm (18 gauge) fine silver or dead soft silver wire
•150cm (60'') of 0.4mm (26 gauge) fine silver or dead soft silver wire
•100cm (30'') of 0.25mm (30 gauge) fine silver or dead soft silver wire
•two beads (I've used two sterling filigree beads: one oval 8mm by 5mm, one round 5mm) with a hole large enough for 18 gauge wire
•27 sterling seed beads or any other beads measuring about 2mm in diameter with holes large enough for 20ga wire
•one jump-ring (not smaller than 5mm in diameter)
•flat nose pliers
•wire cutters
•round nose pliers
•fine file
•masking tape or thin wire leftovers
•ruler and marker pen
•optional – liver of sulfur, torch and soldering equipment

You can pay for the tutorial via PayPal - simply send a payment of 12 USD to iza@izamalczyk.com
The lesson will be sent to you as a licenced pdf copy (about 1700 KB), usually within 24 hours from receiving the payment (except from weekends and holidays when I'm out of my studio).